What will I learn in this masterclass?
In this masterclass, you will learn how to answer the following questions:
What is people analytics and why is it so important for HR and companies today?
When is a good time to start with people analytics?
How do I make room for people analytics in a busy schedule of your HR team and how do I acquire the skills and knowledge to do so?
What comes first? How do I get started with people analytics?
This masterclass is part 1 of the People Analytics Masterclass Series.
Enroll to access the complete 8-part Series and get your Certificate of Completion.

Your Instructor

Mirta Stantic is a PhD Researcher at the University of Oxford, where she's studying individual differences in face perception. She serves on the advisory board of Orgnostic, a people analytics platform for strategic HR leaders.


Mirta previously worked as a Data Analyst, supporting business recruiting functions at Facebook in San Francisco, where she was tasked with workforce planning, attrition, transfers and growth modeling, and designing dashboarding solutions to improve recruiting productivity and accelerate hiring capacity.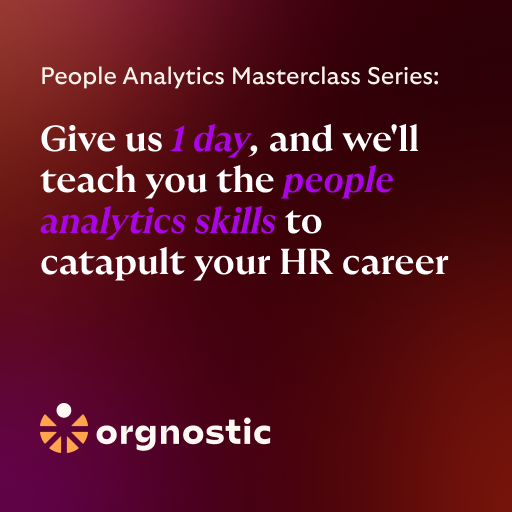 Time: Whatever time best fits your schedule. There are 8 1-hour sessions with accompanying quizzes that take ~10 minutes to complete. 
How: Eight 60 min videos covering the most important people analytics topics
Price: FREE (courtesy of Orgnostic)



In just 8 hours – 60 min per week – we will show you how to set up people analytics and prepare data-driven HR strategies your stakeholders can't ignore.

Your instructors? Current and former CHROs and people ops execs from companies like Facebook, Uber, Instacart, and Lattice.


Learn more about the entire series

How easier would your job be
 if you could justify every HR decision 
with hard data?
Frequently Asked Questions


Is it too late to join?
No, you can join this series whenever you'd like.
Why is this course offered free of charge?
The People Analytics Masterclass is brought to you by Orgnostic – the people analytics platform for strategic HR leaders. We've created this course because we're on a mission to democratize people analytics and make data-informed HR practices readily-available to any organization that cares about its people.
Will I get a certificate after the course?
Certification is currently closed, however we plan to soon reopen certification. You will then receive a certificate regardless of when you finished the course.

Do I need to watch all the sessions?
Yes, you need to watch all the sessions and pass all the quizzes in order to get the certificate.
Do you offer HRCI credits?
We currently don't offer HRCI credits, but attendees can self report the class to receive recertification credit.
Have more questions?
Contact us at [email protected].